nine of sixteen
It's always frustrating to try to write entries for cat.net when my mind's more occupied by the code of Quarto. It's difficult to come up with interesting things to say when your mind's current definition of 'interesting' is "oooooh! Now a quarto siteadmin can edit the general text message that's shown on the main Quarto admin screen!"
See? This sort of thing is vastly uninteresting to the general populace. Suffice it to say that over the course of the weekend, I scrawled down sixteen things that qualified as outstanding issues in Quarto. Nine of those sixteen things have squiggly lines through them now.
The process of making lists is frighteningly addictive. The 'low' comes from the daunting feeling of being overwhelmed. The making of the list is the 'fix' - a way to excise worries from the mind by committing them to paper. Once written, they are solvable, manageable.
The squiggly lines are the 'high.' There is joy in taking pen to paper and striking out the words, in moving the task from 'something to worry about' to 'something to be forgotten.'
When you think in those terms, it's difficult to switch your brain over into the creative process of writing. In the back of your mind, you're still thinking about the list. Its existence nibbles at you, if you let it - is there any way I could cross off one more thing from the list before going to bed tonight?
Despite this silly listmaking, I'm starting to see a Quarto milestone approaching. I'm hesitant to call 1.0 the end of development, although in some ways it will be for me. Once it reaches that point I plan to take a break from it for a while. Do other things. Finish my black-and-white sweater, I think. I've asked myself what I'm going to do with cat.net once I have a fully-functional database backend that meets more needs than cat.net could ever think to want...and I'm not sure.
I've toyed around with the idea of taking all these silly photos I have of the cats and using a separate quarto install to create a goofy little sidebar item - a random kitty photo popup.
I realize what a luxury those thoughts are, and how pedantic this all sounds, and I find myself unwilling to apologize. It's been nearly a year since Dad's cancer diagnosis - a year since everything turned itself upside-down and then inside-out for good measure. I'm aware that I didn't just start working on Quarto when I did by accident; I did it knowing full well that I was struggling to find some way to cope with Dad's death.
I think I equate reaching the "1.0" version of Quarto as the end of my mourning for Dad. I had not thought about it so consciously until just now as I typed it out, but it rings true. The code for Quarto - the struggle to learn, to understand, to reshape my thoughts until they could be expressed as the ultimate combination of art and ordered list that is code - gave me an out. It was not okay (in my mind) to admit to how deeply depressed I was after Dad died, but it felt at least marginally socially acceptable to bury my grief and my anger in code.
I don't say it often, but I'm grateful that my thoughts can be so mundane now. It means that the people I care about are well, safe, and happy, and that I can wake up most mornings and not wonder if the sky has a nine a.m. appointment to fall on my head that day. I can laugh at Tenzing's abject determination to sleep as close to my keyboard as possible, or how silly the boys are when they pile up together on the bed and doze in more sickeningly cute configurations than even I dreamed of.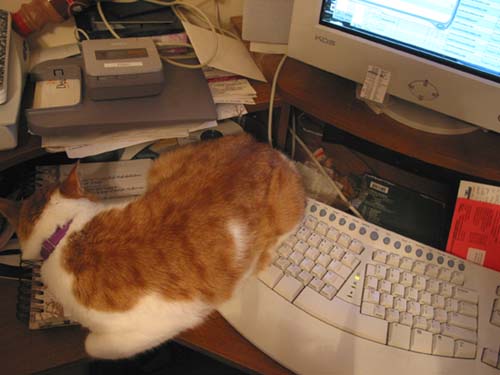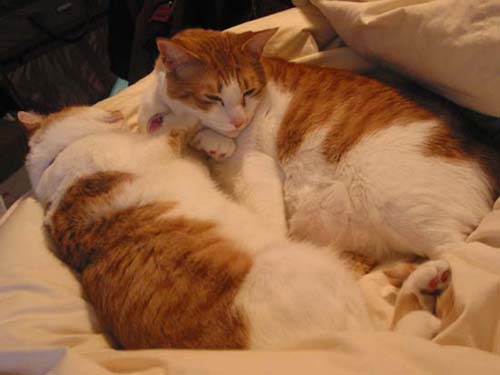 I am learning to laugh without guilt. To understand that at some point, no matter how devastated you are, you realize that the sun still comes up; your husband still loves you; your friends will still eat your pork tenderloin recipe if you make it for them; your cats still think your feet are great to snuggle up against in the middle of the night; and that eventually you have to take a great, deep breath and finish the software you were working on…
…because it's time.
Whatever that means.