Autumn winds always drift me into yarn shops
A roundup of links that have no real bearing whatsoever on anyone who isn't me, but which, when collected, bear a vague resemblance to a substantive post:
Usually what's fun & educational for the kids in Atlanta entertains the kid-minded adult, so this list of interesting free-ish kid stuff to do in Atlanta appeals mightily. There's plenty-o-nifty in that there town.
The rest all have to do with charting knitting patterns. I'm just now getting around to learning how to read charts, and I've been thinking about re-tackling a devilishly difficult, long-delayed project containing a point d'esprit lace pattern. Sam's right - the reason the pattern looks so hard to me is because it's written out, not charted up. Some things that take forever to explain in words are very easily conveyed via symbol (can I get a "skip one, knit one, pass slipped stitch over" hallelujah from the 1.3 knitters in the audience?).
After looking around I discovered the Japanese knitting community got it right - they do not have written patterns. They only use charts. (How sane of them.) Thus this English-language information about Japanese knitting. Under 'Japanese Knitting' choose 'Japanese Basics' and they have an incredibly useful chart - a guide to the sizing of British, American, and Japanese knitting needles.
(Side note: the site has a page with a couple of Japanese poems regarding knitting. The translation of "秋風に 吹き寄せられて 毛糸店" (akikaze ni fukiyose rarete keito zen) provoked a smile—see the title of this entry. Apparently I'm not the only susceptible one. Here's hoping the translation's accurate and I'm not perpetuating a hanzi smatter.)
But all of this was a side jaunt; I was really looking for fonts I could use to chart my own patterns. Yes, to conquer that lace pattern once and for all, I'd need to chart it, and that sort of thing gets difficult without a font. I've only found two available: one by Carol Taylor of Aire River Design and one by David Xenakis. I haven't tried either of them out yet, because I need to look through their symbol lists to see if either of them have the funky stitch symbol I need for that blasted third row of the lace pattern.
No kidding. This lace pattern is from hell. There's a reason I abandoned this project for two years. I'm going to boost my confidence by starting work on the baby blanket and then see if I can't ride that high into conquering this little beastie.
I just went into the reading room, found the fetal scarf, and took a photo of it: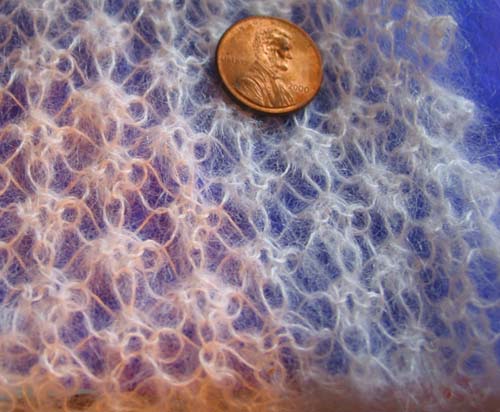 I told you it was from hell, and you didn't listen. Yes, that's a self-edging pattern, with variable numbers of stitches per row. (See the pointy edges? Yeah.) Yes, the yarn is really that fine. Yes, it makes me want to shoot myself when I work on it. Yes, there are mistakes in it, and I can show you where they are. Yes, I'll wear it incessantly once it's done, despite the damned errors.
I can't give the pattern out; I bought it, and it's copyrighted, and when I checked last night, it didn't appear to be on sale any more. However, once I get it charted, I might be convinced to loan out my chart to a friend or two. ;)
Oh, and while I'm thinking about it, here's a photo of a certain since-finished Ravenclaw scarf cozied up to an old bottle of Scotch. It's since been fringed and mailed to Jody, who promises to send me photos of him wearing his scarves. He'd better!
Right then. I need food. I won't get food until I stop writing.
I guess I should shut up, shouldn't I?
(ETA to photos of child-sized Slytherin scarf: 36 hours.)
Update, a few minutes later: always good to know that your sorta-newly-British friends from college are okay after people do dumb things like plant bombs in public transit. Glad you're ok, Angel - I thought of you first thing when I saw the news this morning. Good photo, too; nice to see the BBC is using it.